Tutorials
Our Latest Tutorials
Look unique and great attention to detail, it is what characterizes every child themes and plugins of Divi.Each Theme and Plugins is designed and built for specific niches, this approach ensures a product developed based on the needs of users.Our team are Divi theme fanatics and know its features and strengths inside and out. We have taken our love of Divi, WordPress and web design fundamentals, and focused our efforts into creating beautiful and well functioning child themes and plugins specifically optimized for Divi 3.20 +.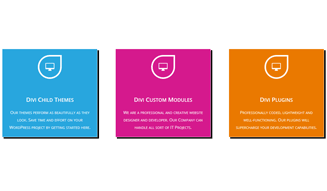 Our Blurb Module Design for you to display Services faster and simpler and beautifully with minimal setting and sort code possible in different template styles .different ways to get creative with the Divi Blurb Module using additional CSS code.
read more

Stay up to date with the latest news from us.
Each week we share useful content, development news, WordPress tips, Divi tutorials and more.